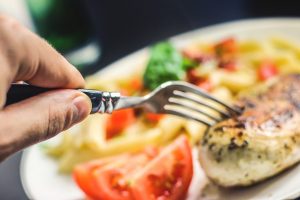 National Nutrition Month, held annually during the month of March, was created by the Academy of Nutrition and Dietetics, to raise awareness on the importance of making smart food choices and improving overall physical health.
This year's theme is "Put Your Best Fork Forward," a simple reminder to make every meal choice count.
By making small changes to your diet now, you can improve your overall health that leads toward a healthy future.
Here are a few ways that you can "put your best fork forward."
Practice mindful eating: Pay close attention to what you're eating, when you're eating, portion sizes, and how you feel before and after every meal. Some of the benefits of practicing mindful eating include learning to eat only when you're hungry, learning that unhealthy food isn't as tasty as you originally thought it would be, and learning to fully taste and enjoy healthier food options.
Know your calories: Using apps that track your calories are a great way of monitoring your daily calorie intake and tracking your progress. You can also keep a food diary of what you eat and the time of day you're eating.  You can also use this a way to practice mindful eating by recording how you feel after every meal in your food diary.
Change your diet: This should be a given. Every healthy diet avoids refined grains like white rice and white bread, processed meats, as well as limits red meat, cheese, and added salt and sugar.  Eat a variety of whole grains, food high in protein such as fish, poultry, beans, and nuts.  Also, be sure to limit your salt intake by using substitutes like spices and herbs, and remove added sugar in meals and beverages. 
At Medallus/After Hours Medical, our doctors are dedicated to making sure patients are educated about their overall health.  One of our many services includes an annual physical exam, where we look over your health history, check your vitals, and perform necessary lab tests.
After your exam, our doctors will discuss with you your overall goals and openly communicate and encourage healthy lifestyles habits.
For more information about our comprehensive medical services, be sure to visit any of our nine locations and our medical professionals will be more than happy to assist you on your journey toward healthy living.
http://afterhoursmedical.com/wp-content/uploads/2011/08/logo_membership.png
64
361
rachot
http://afterhoursmedical.com/wp-content/uploads/2015/01/medallus-logo.png
rachot
2017-03-07 21:50:42
2017-03-08 14:34:46
March is National Nutrition Month