Walk-In Urgent Care in Sandy, UT – Open 7 Days a Week!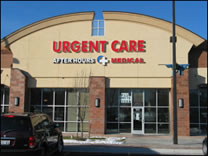 7998 South 1300 East
Sandy, UT 84092
(801) 255-2000
Click to Call – (801) 609-9864
9:00am – 9:00pm, 7 Days a Week
A visit to the emergency room will more than likely leave you with a huge hospital bill, and booking an appointment with your Primary Care Physician can take weeks or months in advance.
Fortunately, Medallus Medical in Sandy UT offers a brand of urgent care that successfully bridges the gap between a visit to the ER and booking an appointment with your PCP.  We're open 7 days a week to be of service for any of your urgent care needs.  We provide treatment for a number of acute illnesses and minor injuries.
We treat some of the following acute illnesses:
Cough, sore throat, fever
Sinus infection
Ear infection
Asthma
Bronchitis
Pneumonia
Allergy treatment
Kidney and bladder infection
Skin infection, cellulitis, abscess
Some of the minor injuries we treat at our centers include:
Sprain
Laceration
Broken bone
Auto accidents, work injuries, sports injuries
Medallus Medical accepts a wide variety of health insurance plans.  We also advise patients who aren't under a healthcare policy or have a high-deductible health plan to sign up for our Membership program, a cost-effective alternative that reduces your out-of-pocket costs.
For more information on the services we provide, please call to speak with one of our medical professionals at (801) 255-2000. Visit us today to access our top-quality urgent care. We look forward to being your go-to destination for walk-in urgent care!