How Affiliate Providers Are Paid?
The Medallus Membership Program collects monthly membership fees from its members. The per visit Affiliate Provider fees are processed and distributed, less administrative fees, to the members of the Affiliate Provider Network on a monthly basis on or before the fourth Friday of the month following the visits made in the month of service.
The following overview is an actual example of a net membership fees collected and providers per visit fees paid. Net membership fees are total fees collected less administrative fees.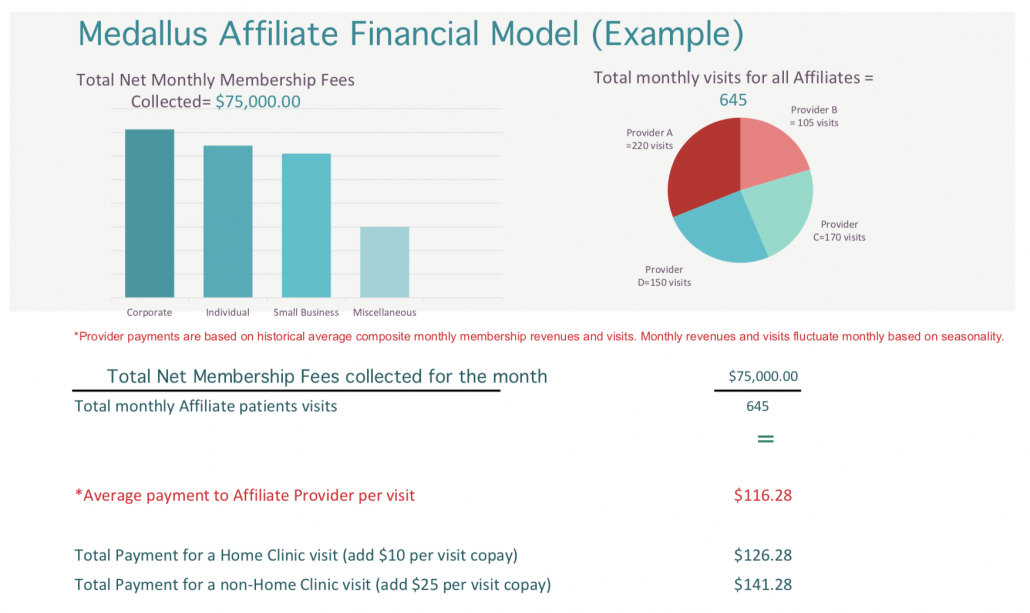 What is covered and not covered by the Medallus Membership Program.
Click for Covered Services
Covered Services:
Non-Emergent Sick Visits- Strep, Flu, Upper Respiratory, Bronchitis, Pneumonia, Ear Infections, Sinus Infection, etc.
Scouts and Sports Physical
Missionary Physicals
Annual Wellness Physicals

Pap Smears (Additional cost from lab)
Breast CA Screening (Additional cost from lab)
Colon CA Screening (Additional cost from lab)
Prostate CA Screening (Additional cost from lab)

Urinary Tract Infections (Additional cost from lab)
Gastrointestinal Issues
Rashes
Blood Draws (Additional cost from lab)
Cerumen Removal (Ear Irrigation)
X-rays

Fractures
Sprains
Dislocations

Splinting (Ortho-glass)
Casting and Removal

Short Arm
Long Arm
Short Leg

EKGs
Injectable Medications
IV Hydration
Wart Cryosurgery
I&D Abscess
I&D Paronychia
I&D Pilonidal Cyst
I&D Hemorrhoid
Evacuate Nail Hematoma
Eye Issues (Conjunctivitis, Abrasion)
Ingrown Nails
Burns
Puncture Wounds
Foreign Body Removal
Lacerations
Tuberculosis Skin Test
Td Shot (Tetanus/Diphtheria)
Skin Biopsy Procedures (Additional cost from lab)
Skin Tag Removal
Piccolo (Additional cost from lab)
In House Lab Tests-

Rapid Strep Test
Rapid Influenza Test (A&B)
Rapid Mono Test
Urinalysis W/ or W/o Microscope
Glucose Reagent Strip Test
Hemoglobin A1c
Pregnancy Test
Lipids
Hemoglobin
H pylori
Guaiac Fecal Occult Blood Test
Wet Mount Smear
Fungus Slide Smear
Gram Stain Smear
Click for Services NOT Covered
Services NOT Covered:
Major catastrophic medical care
Services provided by Emergency Room, Hospitals, or any practices not affiliated with our clinics
Chronic pain management with narcotics/opiates
Substance abuse or withdrawal
Advanced psychiatric problems
Sports Medicine
DOT Physicals
Drug Screens
Worker's Compensation
Chiropractic
Sleep Apnea Testing
Allergy Testing
Radiologist Over-read of X-ray
Vaccinations (Except Td):

DTap
Tdap (7 and up)
Hep A (Children)
Hep A (Adult)
Hep B (Children)
Hep B (Adult)
Twinrix (Hep A & Hep B)
Hib (Children)
Act HIB
Rotavirus or Rotateg (Infant)
Prevnar or PCV 13
Polio
Pneumococcal
MMR (12mo and up)
MMRV/Proquad (12mo, 4-6)
Varicella or Chicken Pox
Menactra
Meningococcal
HPV or Gardasil

Labs sent to 3rd party lab:

Blood Tests
Anaerobic/Aerobic Swabs
Urine Culture
STD Testing
Stool Culture
Pap Smears
Punch Biopsies
RPP
PGX
GI
Above included but not limited to

DME:

Ankle Brace
Back Brace
Cervical Collars
Clavicle Splint
Crutches
Doughnut Pillow
Elbow Strap
Finger Splint
Knee Brace-Hinged
Knee Brace-Immobilizer
Nebulizer Machine
Night Splint
Rib Belt
Shoulder Immobilizer
Sling
Surgical Shoe
Thumb Spica
Wrist Splint
Walking Boot