Urgent Care & Primary Care Center
Walk-In, No Appointment Necessary
Medallus Medical
at Thanksgiving Park in Lehi, Utah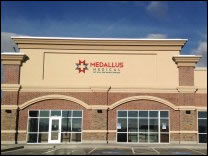 2450 W. Executive Parkway
Lehi, UT 84043
Click to Call – (801) 980-0845
9:00am – 5:00pm, Mon – Fri.
Spacious clinics in a warm, inviting atmosphere with friendly staff
Walk-ins for Urgent Care services
Short Wait Times
For walk-in urgent care, visit our convenient Thanksgiving Point urgent care center, conveniently located in Lehi – easily accessible from a number of local businesses and neighborhoods. Instead of booking an appointment with your primary care physician and waiting weeks for care, visit us anytime during our convenient 9am-5pm hours of operation, Monday through Friday.
Since opening in January, 2017, Medallus/After Hours Urgent Care has established itself as the go-to urgent care center and walk-in clinic for residents from Lehi, Saratoga Springs, Highland and more! Our board-certified physicians have significant experience in urgent care along with a variety of other specialty fields, guaranteeing you that you will receive nothing but the best urgent care at our center.
Primary Care Medicine
Annual physical exam
Long-term medical care: Diabetes, Hypertension, Asthma
Health maintenance
Physicals: Scout, School, Sports, Pre-employment
Urgent Care Medicine
Acute Illnesses:
Cough, sore throat, fever
Sinus infection, ear infection
Asthma, bronchitis, pneumonia, allergy treatment
Kidney and bladder infection
Skin infection, cellulitis, abscess
Acute Injuries:
Sprain, laceration, broken bones
Auto accidents, work injuries, sports injuries
Other:
Abdominal pain, chest pain, back pain
Any non-life threatening medical issues
 Procedures, Tests & Treatments
Rapid Strep Test, Mono Test, Influenza Test
X-ray, EKG, breathing treatment (nebulizer therapy)
IM and IV medications, IV fluid therapy
Laceration repair (suturing), draining abscess, skin procedures
Orthoglass splinting, casting broken bones